Hunger & Poverty
Hunger and poverty are a sad part of our cultural landscape today, just as it has been for centuries. The persistence of these problems makes it no less important to address them. Jesus told us to feed the hungry and meet the needs of the disadvantaged. Now, we seek to be faithful in doing so because every person is created in the image of God and valued by God.
Click here for more information on the Texas Baptist Hunger Offering.
Bringing good news to the poor was central to Jesus' ministry and to the unfolding of God's kingdom (Luke 4:18-19). His embrace of the social outcasts of his day stood out as paramount.
We see and hear this particular love throughout the gospels. In Luke, we see numerous healings of the lame, the lepers, the diseased, the blind, and the demon possessed. We hear the beatitudes, "Blessed are you who are poor, … you who are hungry now, … you who weep now" (6:20-21). We see the raising of the dead boy at Nain, the only son of his widowed mother (7:11-17). In 7:20-23, we read Jesus' answer to John the Baptist's question, "Are you the one who is to come, or are we to wait for another?"
Jesus' parable of the last judgment in Matthew 25 is possibly his most famous about addressing the needs of those who suffer, including the poor and hungry.
And the king will answer them, "Truly I tell you, just as you did it to one of the least of these who are members of my family, you did it to me" (Matthew 25:40).
When we help those who suffer, it is the same as providing care for Jesus Himself.
Jesus knew well that Scripture, our Old Testament, brimmed with expressions of God's concern for the poor.
The Law contained a special regulation of harvests, usually referred to as the gleaning law. Leviticus 19:9-10 says fields and vineyards must be harvested in a manner where a portion of the crop is left for the poor to pick up and consume. The story of Ruth illustrates the gleaning law at work.
Many other passages could be quoted to reflect God's special concern for the poor. The Law argues that this special concern lies at the heart of divine justice.
It is not surprising that the Old Testament prophets demanded that this particular justice of God be done in society. Indeed, one of their common complaints against both Israel and Judah was that the people had neglected and oppressed the poor in their midst (Isaiah 5:8; Amos 8:4; Micah 2:2). This complaint rivals religious apostasy in terms of frequency of mention. Amos thundered that the Israelites "trample the head of the poor into the dust of the earth" (2:7).
Just as Jesus embodied this powerful Old Testament tradition in his life and ministry, the early church followed Jesus. The book of Acts records the practice of the Jerusalem community (Acts 4:33-35). Because many in the church were poor, those who had material means sold their assets to provide for members of the fellowship in need. The book of Acts says that by this practice the early church bore powerful witness for Christ in the world.
When the Jerusalem church suffered famine in the middle of the first century, the Apostle Paul undertook to collect an offering from the churches in Asia and Macedonia.
James makes ministry to the poor central to his well-known argument about the inseparability of faith and works (James 2:14-17). And John says sharing with those in need is the sign of real love.
And this is our challenge still today, that our love be more than words. True love is shown in action toward those in need, including those who are poor and hungry.
All Scripture quotations are taken from the New Revised Standard Version unless otherwise noted.
New Revised Standard Version Bible, copyright 1989, Division of Christian Education of the National Council of the Churches of Christ in the United States of America. Used by permission. All rights reserved.
Online Resources
On Hunger & Poverty
To be a follower of Christ implies a desire to live as Jesus lived and to emphasize the things he emphasized. Care for the poor and hungry is one of the consistent concerns expressed in Jesus' life, as it is throughout the Bible. Click here to read more.
Therefore: Hunger & Poverty
Famine has devastated Malawi, Africa. In the Dowa District, people are feeding themselves by digging up plants and eating the leaves and roots, sometimes with disastrous consequences. Click here to read more.
Baylor Center for Christian Ethics - Food and Hunger Study Guides
Download Baylor University's study guides and lesson plans for Food and Hunger. Click here for more information.
Other Resources
Hunger in Texas
Texas has the seventh-highest rate of hunger at 5.1% of households in the United States. (Source: Center for Public Policy Priorities)
Approximately 22% of Texas children under age 18 are food insecure which is the highest in the Nation.
23.3% of children under age 5 in Texas are food insecure.
Texas has 1.3 million food insecure households (more than 3 million people), which is the third highest in the nation. (Source: Center for Public Policy Priorities)
Hunger in the U.S.
(Source: Feeding America)
In 2009, 43.6 million people (14.3 percent) were in poverty.
In 2009, 8.8 (11.1% percent) million families were in poverty.
In 2009, 24.7 million (12.9 percent) of people aged 18-64 were in poverty.
In 2009, 15.5 million (20.7 percent) children under the age of 18 were in poverty.
In 2009, 3.4 million (8.9 percent) seniors 65 and older were in poverty.
In 2010, 48.8 million Americans lived in food insecure households, 32.6 million adults and 16.2 million children.
In 2010, 14.5 percent of households (17.2 million households) were food insecure.
In 2010, 5.4 percent of households (6.4 million households) experienced very low food security.
In 2010, households with children reported food insecurity at a significantly higher rate than those without children, 20.2 percent compared to 11.7 percent.
In 2010, households that had higher rates of food insecurity than the national average included households with children (20.2 percent), especially households with children headed by single women (35.1 percent) or single men (25.4 percent), Black non-Hispanic households (25.1 percent) and Hispanic households (26.2 percent).
In 2009, 8.0 percent of seniors living alone (925,000 households) were food insecure.
How Hunger Affects Texas Youth and the Nation
With 18.8% of the population struggling with hunger everyday, Texas ranks second highest in the nation for food insecurity.
Nearly 4.41 million Texas are living in poverty.
Approximately 22% (the highest in the nation) of food insecure Texans are children under the age of 18.
14.5% of U.S. households are food insecure (compare to 18% of Texas households).
6.2 of 73.9 million children live in food-insecure households in the U.S.
Every SNAP dollar spent, formerly known as food stamps, generates $1.87 in economic returns.
Of the more than 2.4 million students in the state who get a free or reduced-price school lunch, less than 1.4 million (56%) participate in the School Breakfast program.
Only 50% of Texans eligible for SNAP participate in the program.

Only 12% of the 2.8 million Texas children that qualify for free or reduced priced meals during the school year participate in the Summer Meals Program.
Hunger in the World
Asia and the Pacific region is home to more than half the world's population and nearly two thirds of the world's hungry people. (Source: FAO news release, 2010)
Women make up a little more than half of the world's population, but they account for over 60 percent of the world's hungry. (Source: Strengthening efforts to eradicate hunger…, ECOSOC, 2007)
65 percent of the world's hungry live in only seven countries: India, China, Democratic Republic of Congo, Bangladesh, Indonesia, Pakistan and Ethiopia. (Source: FAO news release, 2010)
Undernutrition contributes to five million deaths of children under age 5 each year in developing countries.
(Source: Under five deaths by cause, UNICEF, 2006)
One out of four children – roughly 146 million – in developing countries is underweight. (Source: The State of the World's Children, UNICEF, 2007)
More than 70 percent of the world's underweight children (aged five or less) live in just 10 countries, with more than 50 per cent located in South Asia alone. (Source: Progress for Children: A Report Card on Nutrition, UNICEF, 2006)
10.9 million children under age 5 die in developing countries each year. Malnutrition and hunger-related diseases cause 60 percent of the deaths. (Source: The State of the World's Children, UNICEF, 2007)
Books
Hunger And Poverty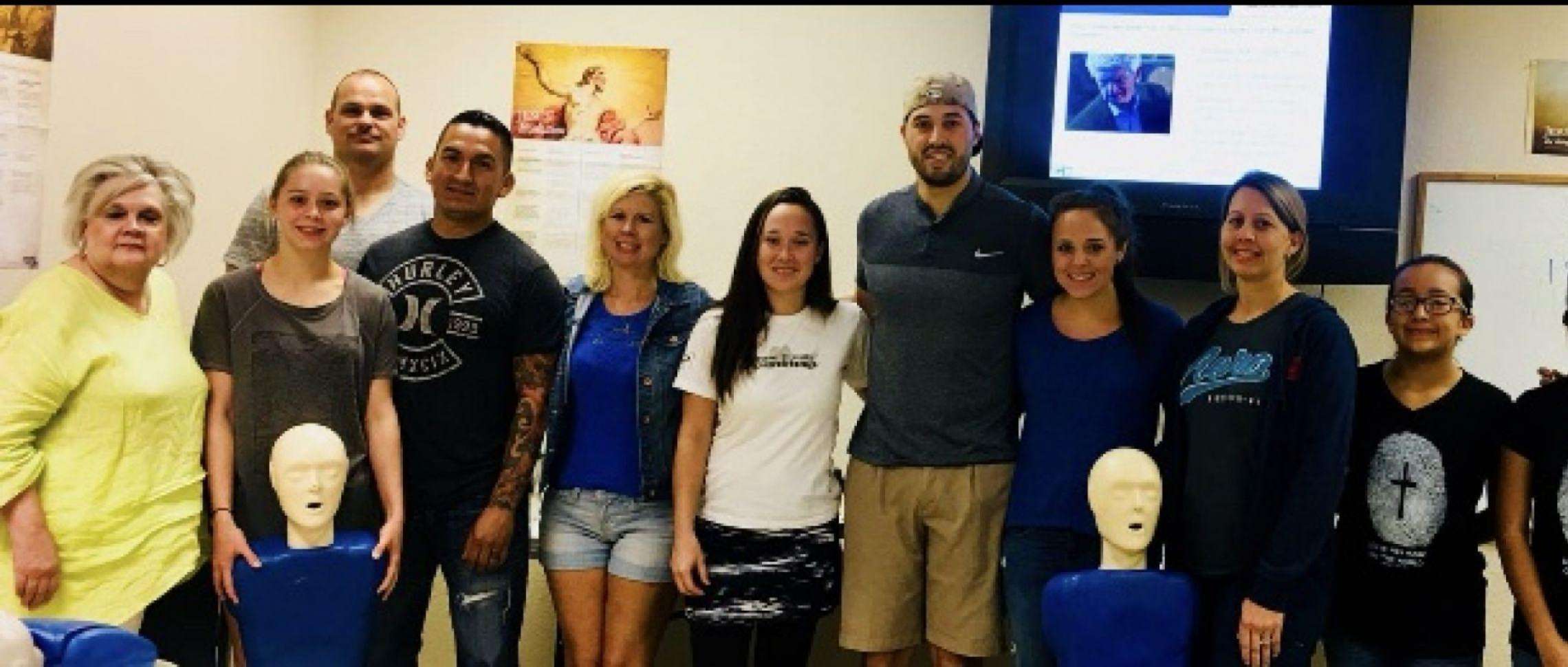 Personal testimony compels Christ-follower to share hope with community
---
By Abby Hopkins
So often, the Lord uses the testimonies of His people to impact others with similar life struggles. For Elisa Valadez, whose story includes abuse, homelessness, and heartache, she knew she wanted to serve her community in this way to offer others the same hope she found in Christ.
Valadez began Pantry of Hope through First Baptist Church Laredo in 2016. Starting with a closet, the ministry opened the second Saturday of each month with food and clothing for families in the community to receive.
Texas Baptist Hunger Offering funds are used to purchase groceries for the pantry.
"It's a blessing to have money come in that serves the community," Valadez said...
Scripture
"The Spirit of the Lord is upon me, because he has anointed me to bring good news to the poor. He has sent me to proclaim release to the captives and recovery of sight to the blind, to let the oppressed go free.…" Luke 4:18
Click here for more Scripture.
Video
---
Contact:
Ferrell Foster
Director, Ethics & Justice, Christian Life Commission
ferrell.foster@texasbaptists.org
(512) 473-2288