Life, Health & Dying
God is the creator and sustainer of life. Jesus Christ came that we "may have life, and have it abundantly" (John 10:10). Christ also has given this creation new life through his death and resurrection.
Online Resources
Abortion
The Baptist General Convention of Texas has taken repeated stands regarding the sanctity of life. Messengers to BGCT annual meetings have clearly stated their position regarding related issues, including abortion. Click here to read more.

Infertility and Medical Options
Approximately 3.5 million couples in the United States are infertile. Alongside the basic frustration of wanting children and not being able to have them, infertility presents a developmental crisis in the life of couples by calling into question their understanding of femininity and masculinity. Click here to read more.

Adoption
For some parents, the decision to even begin the adoption process takes time. Click here to read more.

Living with Grief and Loss
In the midst of the complex experience we call life, the prophet speaks a clear word of comfort and support. We are known in the mind of God. We are loved in the heart of God. We are sustained through the strength of God. Click here to read more.

Substance Abuse, Addictions and Destruction Behaviors
The litany of issues related to substance abuse are familiar and formidable: family dysfunction and disintegration, health care costs, accident related injury and death, criminal activity and spiritual crises. Each issue presents challenges and opportunities for Christian ministry. Click here to read more.

Living with the Death of a Child
How do we respond to the death of a child? How do we cope with a parent's worst nightmare? Click here to read more.

Elective Death/Euthanasia
Baptists affirm the special significance of human beings in Gods creative activity. Death can never be taken lightly and is ever accompanied by a sense of tragic loss. At the same time, many Baptists have been unwilling to turn this belief into an absolute aversion to death. Click here to read more.
Caring for Aging Parents
How to care for aging parents is a real struggle for adult children. Many aging parents also find the transition of caregiving difficult. They have been our caregivers. Even if they have come to view us as adults, we are still their children. Click here to read more.

Advance Directives
Advance directives allow persons to make decisions about medical treatment prior to the onset of circumstances that might precipitate these decisions and in the event of incapacitating illness. Click here to read more.

Crisis at the End of Life
Baptists have historically envisioned the church as the visible gathering of disciplined Christians. Out of the quest to establish this kind of church, Baptists have attempted to recover New Testament images concerning how believers are to live before a watching world. Part of our witness to the world revolves around how we approach and experience death. Click here to read more.

Organ Donation
Advances in medical technology have made transplant operations and organ donation commonplace. The well-publicized cases of celebrities who have made or received donations have raised public awareness. Click here to read more.
Life Health Dying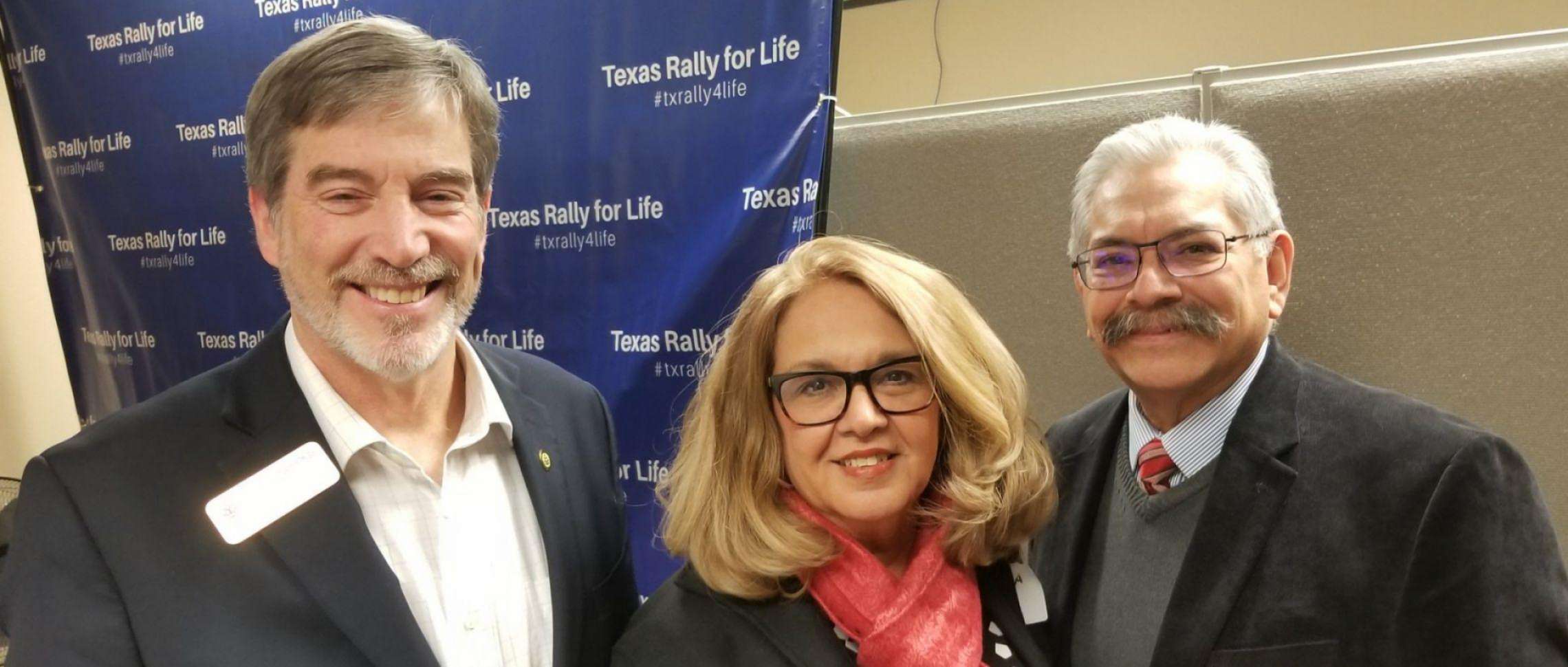 Encouraged by pro-life events in D.C. and Austin
by Gus Reyes on February 1, 2019 in clc
---
Two events on two successive weekends have encouraged me. In mid-January, I witnessed busloads of people streaming into Washington, D.C., for the annual March for Life. One week later, I listened to thousands of people cheer during Austin's Rally for Life.
Both events attracted large numbers of students and young adults. There's an enormous concern evidenced by the thousands of students lifting up the importance and value of life.
A message can be gleaned from this -- pro-life supporters are not going away. And more and more pro-lifers understand that it is not just about abortion; we want to promote the value of human life from conception to natural death.
Children before birth are among the most vulnerable among us, but many women who are carrying these children are in vulnerable positions, as well. We need broad cultural understanding, support systems, and legal frameworks within which we promote the health of all children and their mothers.
In speaking at the Austin event, I noted that Texas Baptists believe every person is created in the image of God and, therefore, deserves our respect and honor from conception.
After reading Psalms 139:13-16 in both English and Spanish, I called for all Texans to work together in . . ...
Scripture
Death has been swallowed up in victory. Where, O death, is your victory? Where, O death, is your sting? 1 Corinthians 15:54b-55 NASV
---
Contact:
Ferrell Foster
Director, Ethics & Justice, Christian Life Commission
ferrell.foster@texasbaptists.org
(512) 473-2288