BOUNCE Student Disaster Recovery offers students the opportunity to assist communities in their efforts to
BOUNCE

back from devastation after disaster has struck. Participants engage in disaster recovery projects, times of worship and reflection designed to help them encounter and respond to God.

BOUNCE is made possible by your gifts to the Mary Hill Davis Offering.
2021 Dates & Locations
BOUNCE will offer Missions during the following weeks in 2021. We look forward to partnering with you to mobilize students. Click here to download a printable version of this year's Mission opportunities.
*Locations may be subject to change
Spring Break
Disaster Recovery Missions
$140
Spring Break 1

: Golden Triangle area of Texas
Wednesday, March 10 - Saturday, March 13, 2021


Spring Break 2

: Golden Triangle area of Texas
Sunday, March 14 - Wednesday, March 17, 2021

Summer
Student Disaster Recovery
Summer 1

: Houston, TX @ $279 is SUSPENDED: Contact BOUNCE before registering
Monday, June 7 - Saturday, June 12, 2021


Summer 2

: Galveston County, TX @ $279
Monday, June 14 - Saturday, June 19, 2021


Summer 3

: Waco, TX @ $279
Monday, June 21- Saturday, June 26, 2021


Summer 4

: Ponce, Puerto Rico @ $329
Monday, June 28 - Saturday, July 3, 2021


Summer 5

: Birmingham, AL @ $279 is SUSPENDED: Contact BOUNCE before registering
Monday, July 12 - Saturday, July 17, 2021

Student Church Planting
Summer 6

: Dallas, TX @ $279
Tuesday, July 13 - Sunday, July 18, 2021

Summer 7

: Houston, TX @ $279
Tuesday, July 20 - Sunday, July 25, 2021
BOUNCE Student Disaster Recovery is a Great Option for Your Church
Who is responsible for the student ministry at your church? Whether it's a full or part-time youth minister or a group of volunteers, BOUNCE Student Disaster Recovery can help mobilize your students to be on mission. Students have a desire to make a difference in the world and BOUNCE provides them an opportunity to do just that through long-term disaster recovery and home rehabilitation projects.
Here are some reasons to consider BOUNCE for your students.
Pre-packaged Approach
No time to plan a mission trip? No worries. BOUNCE takes care of all the details. You don't have to concern yourselves with lodging, food, ministry projects, or materials. BOUNCE handles all your logistics and frees you up to minister along-side students.
Challenging Work
Students will serve communities through a variety of ministry projects. Work may include, but is not limited to debris removal & clean-up, construction rehabilitation, and other ministry projects that will assist and encourage members of the affected community.
Inspiring Worship
Although the heart of BOUNCE is mission service, there is also an opportunity for students to encounter and respond to God through evening times of worship and reflection.
A Kingdom Approach to Service
Students and adults will meet new friends from other churches as they partner to serve communities for Christ. Your students and adults are combined with participants from other churches to form ministry teams. At least two participants from your group are placed on a team to minister with participants from other churches for the week.
Any Size Group Can Participate
Whether you want to bring three participants or 30, BOUNCE can accommodate your group and provide you with a significant hands-on mission experience.
No Construction Experience Required
Although helpful, your group doesn't need construction experience. BOUNCE has experienced construction personnel to lead and supervise ministry teams. If your church has experienced construction volunteers, let us know. We may want to enlist them to serve as a ministry team leader.
Spring Break and Summer Options
There are Spring Break "express" missions that provide your students with two days of mission service, thereby leaving you a few days for spring break rest and recreation. During the summer months BOUNCE offer five day missions.
A Value Price
The BOUNCE pre-packaged approach to missions includes lodging in an area school or church, meals, mission preparation materials, on-site supplies, supplemental insurance, mission coordinating team, staff, and worship team and a BOUNCE t-shirt. Spring Break missions are priced at $140.00, and Summer missions range from $279.00 to $349.00.
Life Change
Most students head home after BOUNCE with a greater love for missions and ministry. They leave with a desire to serve their communities and to do great things. Some will return home with a clarified call to ministry. BOUNCE knows that communities will be different as a result of the ministry we perform, however, it also excites us to know that student lives are changed as well.
Bounce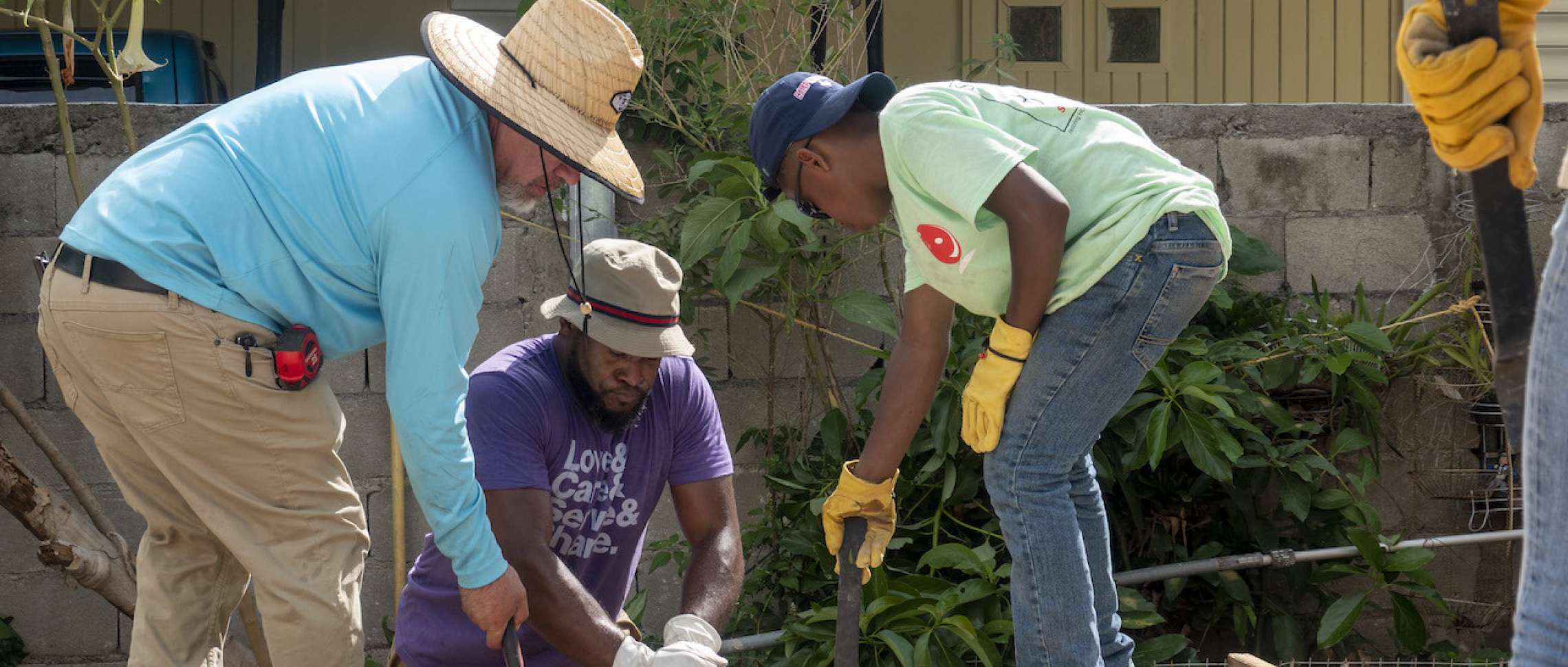 BOUNCE teams bring relief to families impacted by hurricanes in Puerto Rico
---
"...we have all these folks here in this community and we get to come alongside them and meet their needs. And that's what Jesus would do...